Full Boat Charters
A deposit will be taken at the time of booking for single day charters. Balance of payment is to be paid in full at the end of the charter. A credit or debit card is required to guarantee the booking. See cancellation terms below.
Multi Day Charters
(West Country, Channel Islands etc) will require a deposit at the time of booking. Balance of payment is to be paid in full on the 1st day of the charter. A credit or debit card is required to guarantee the booking, Call skipper for more details and read the Cancellation Terms below.
Individual Anglers
Individual Single Day Trips Payment in full is required for all Individual Bookings at the time of booking.
Individual Multi Day Trips (West Country, Channel Islands etc): A deposit is required to book your space. Balance must be paid 14 days before charter. A credit or debit card is required to guarantee the booking.
Telephone Payments
Valkyrie Charters can take all Major Credit and Debit cards over the phone.
Please call 02392 461717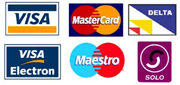 ​
Important Notice
Before purchasing any trip, please read the Terms & Conditions detailed on this page. If unsure please call the skipper in the first instance..
Cancellation, Change & Our Promise to You
The Skipper will decide if the weather is good enough to go ahead with the fishing trip. The Skipper reserves the right to change the type of trip depending on the weather conditions. For example if the weather does not permit offshore wrecking but is fit for an inshore reef trip then the trip will go ahead with the changed itinerary and the price will be reduced accordingly. In the event we have to cancel your trip due to bad weather or unseen circumstances your deposit or full payment will be returned (less a 2% booking fee for credit cards). We can also 'roll over' the deposit or full payment for a re–arranged date at the angler's discretion.
Cancellation and Your Commitment to Us
If you cancel we will always try to re-book the date if we are successful there is no liability on your part and your deposit or full payment will be returned (less a 2% booking fee for credit cards). If you cancel and we are unable to rebook the date or you do not turn up in time for the departure of the boat the deposit or payment will be forfeited. In the case of charters you will also be expected to pay the balance of 75% of the full charter price. You agree that any balance will be charged to your credit or debit card on date that the charter would have taken place.
Claim and Liability
No claim will be accepted against the Skipper for cancellation due to illness, breakdown or any event beyond the Skipper's control, ie weather (see above Cancellation, Change & Our Promise to You)
Tackle Hire - Equipment Loss
The Skipper is not responsible for any valuable item / tackle loss, items taken on board are done so at the owners risk. For those anglers using the boat 'Hire Rods' any loss, including Rods and Reels, will require the person(s) using the item(s) at the time to reimburse the Skipper to the value of replacing the said tackle item(s)
SAFETY NOTICE - WARNING.
Fishing is considered to be the most dangerous profession in the United Kingdom.  If you choose to board a fishing boat to take part in angling or any other activity, then you must accept that you are subjecting yourself to various kinds of risk.  Before you can fish on VALKYRIE you will be asked to read our SAFETY NOTICE. Booking a place on VALKYRIE  will be accepted as confirmation that you have agreed to subject yourself to the risks and hazards associated with boating and fishing, and that you are accepting liability for any risks that you may take.
Our vessels are NOT suitable for wheelchairs
SAFETY NOTICE
The skippers of VALKYRIE prides themselves on taking the best level of care of you while you are on board. The skippers are fully qualified and the boats equipped with a complete inventory of up to date safety aids. You will be given a safety briefing by your skipper before setting sail for the day. If anything is unclear please ask your skipper. Your skipper will be using his full range of skills and will be concentrating to ensure your safety and the safe navigation of the boat.
The following is a list of areas where you may have to take special care and be responsible for your own safety.
Embarking and disembarking the boat at the pontoon.  Never attempt to board or get off the boat until she is secured by ropes and until you have been given permission by the skipper or his crew. Always have at least one hand free of equipment so that you can hold onto the handrail provided.  Consider passing equipment and baggage to other anglers or a crew member rather than attempt to carry it between boat and shore yourself.  Being on the sea, the vessel may be subject to a slight motion as you board. Take special care on steps which might have slippery green sea-weed or on the dock area where there can be trip hazards.
Please be very careful not to get your hands trapped between the dock and the boat when coming alongside or when the boat is leaving.
Please take care when moving around the boat at all times. Take care to hold on to minimise the risk of falling over and be careful where you tread - the nature of fishing boats can mean obstacles are often in your way. Pay particular attention when entering and leaving the cabin. Be especially careful when it is rough or when there is wash from another vessel. If you need to move about under these conditions please let the skipper know otherwise please remain seated.
Please be very careful when using knives to cut bait and fish. Return them to their storage when you have finished with them. Be especially careful when moving around under rough conditions with a knife in your hands.
Take care with sharp hooks.
Take care with lead weights.  These can cause serious injuries if allowed to swing uncontrolled.  Remove weights from any rod during transit or that you stow in the rod holders.  After handling lead weights, consider washing your hands before handling your food.
Please handle the fish carefully. Some fish like bass, bream, rays and gurnards have sharp spines. Others like dogfish and tope have rough skin which can cause abrasions. Congers, ling, rays and tope amongst others have the ability to injure by biting. Some fish such as weavers can administer a painful poison from their spines. Your skipper will be pleased to help you handle your catch safely if you are unsure.
Hot drinks are sometimes provided on VALKYRIE.  Be careful with hot drinks as these are a scalding hazard, especially if you are moving about the boat in unsettled conditions.
Hypothermia in the colder months or Heat stroke in the summer can affect any person on board who is not dressed for the conditions on the day.  Check the weather forecast before you come fishing and bring the appropriate clothing.  Consider bringing sun screen on sunny days.  Seek advise from your skipper if you are unsure what to wear.
The Owner/Skipper of VALKYRIE Does not accept responsibility if you choose not to comply with these safety guidelines.