Fishing for Big Winter Cod
During the Summer months our Cod fishing is 30-50 miles off shore on the English Channel Wrecks, here we mostly fish on the Drift and look to put lures right into the 'Tins' to lure the Cod away from the safety and feed rich features.
As the water temperature drops towards the end September and into October, the Cod start to migrate inshore to feed and eventually spawn before moving off to alternative feeding grounds in early spring. The Winter Cod run is historically thought to follow the Sprat and Herring shoals, which still remains a matter of debate. One thing is for sure, they reappear on the Wrecks by late May and June and the circle goes on.
The rough ground marks along the Hampshire coast, East of Wight, the Solent and the infamous Nab Tower all draw and hold Big Cod in the Winter months. Most of the marks feature depths of about 80-150ft and can be fished Down Tide or Uptide in those at the shallow end of the scale.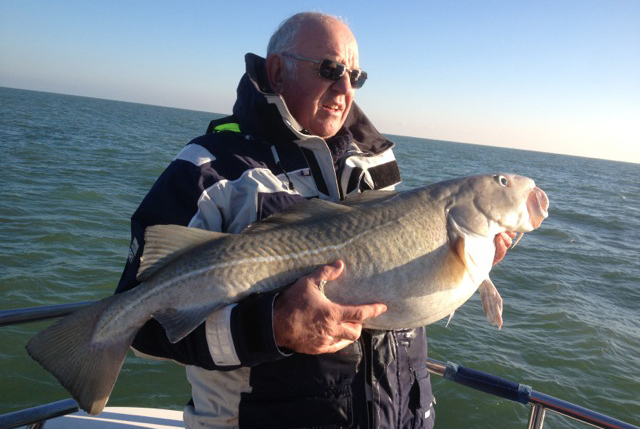 A proper Mud Pig (Big Cod)
Tackle
For your Down Tide fishing, a 20-30lb class boat rod is ideal and either a Saltist 30 or Abu 7000+ multiplier loaded with 30lb Braid and 80lb snoods. Depending on the state of tide you'll be fishing 6oz to 16oz of lead and bouncing a bait well away from the Boat has been well documented as a 'Must do' - Many anglers are now using the likes of Balloons to suspend a BIG bait and run it back in the tide. Whilst we don't want to encourage littering the Sea with Balloons, we are seeking valid alternatives to the 'slow biodegradable' balloons currently being used. (We'll post an update if we find a good one)
For your Up Tide fishing a 12-20lb rod capable to casting 6-8oz + bait will be required, again braided lines should be 30lb with 80lb snoods. Casting from a Boat should always be done with the lead starting and finishing outside the Boat (ie not the deck) area. There's a set protocol when doing so and if unsure please ask for a demonstration. Safety of all anglers is paramount.
Bait.
Ultimately, Squid, Lug, Crab and Cuttle will be the baits used. A mass of Lug or a Peeler Crab stuffed in a single Squid will help delay the Whiting and provide a good Cod bait in normal situations. However, there's more and more interest in catching BIG, Very Big Cod over the last few years. Whilst it appears there's more and more of these fish around - or reported upon via the Angling Presses as being so. There's certainly more call for waiting it out on BIG bait.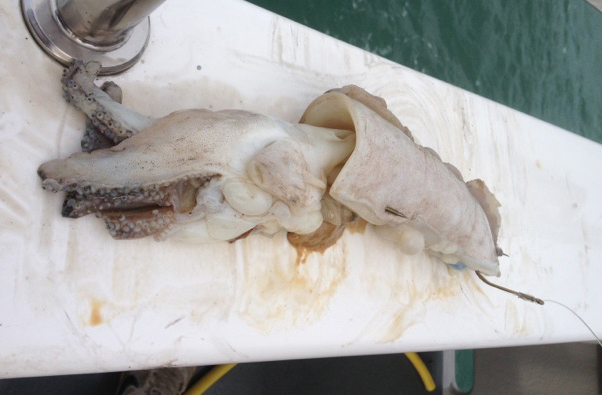 A Big Cuttle Bait for a Big Cod
It's no secret that Cuttle has been the most consistent BIG Cod bait off the south coast for some time. Further inshore, Crab and Lug will score best as ultimately this is what the fish are feeding on a few hundred yards off the coast, but drop into 100ft of water and it's Cuttle that's number one.
Quite often there's competition for the baits with hordes of Whiting and strap Conger providing a break in for motionless rod tips. The cuttle keeps the Whiting at bay for a while but the big scent trail put down will pull Conger onto the feed as well as the target Cod. Whilst the Cod fishing is a waiting game, the Conger fishing when they're having it provides us with some great winter sport. Likewise, those fishing lighter can put a few decent Whiting together for the table on most days.
Big Cod Basic - Rigs
A simple running ledger/ Zip Slider / Wreck Boom is perfect for most of Winter fishing at anchor. The key is how the snoods are made up. Cod have incredible abrasive mouths, a lot more than you would think. As such it's a popular practice to fish the pennel rig with the hooks attached to a loop. It's quite simple and very effective way of reducing 'bite off's'
Bring plenty of Cuttle with you!
At the end of your snood create a loop with a simple overhand knot (a figure of 8 is best) and pull it tight and trim. Thread a bead followed by a Size 6/0 Mustad Viking Pennel hook up to the loops knot. Create a simple overhand (not a figure of 8) knot to trap the bead and swivel in the top 4 inches of the loop. Now simply take an 8/0 Mustad Viking and thread the loop through and over the hook and pull tight again.
You want to use some heave snood line and make sure a doubled over loop will go through both your bead and your hooks eye. If that all sound a bit complicated, which it really isn't, just use at least 100lb mono. The pennel hook is best secured with silicon tubing as big mono will buckle when twisting around the hook, you'll get a better presentation too.
They're not all Massive, but they're all Welcome!
If you can get hold of them Cox & Rawle 'Meat Hooks' SCR25 6/0 + make for some brilliant Big Cod / Conger hooks and have a good sized eye.
On the 'Other Side' of the Isle of Wight, around the Needles area, it's common to use shrink tube and have a flying paternoster, but that's a bit beyond the basics and I'd like to keep things simple here. Maybe we'll add a diagram at a later date.
Simple Pennel Rig for Big Cod - Looped Pennel Snood
Simple Pennel Rig for Big Cod 8/0 & 6/0 Mustad Viking Hooks